Booth 13

Manned on off-hours by Quel'shala Volunteers from Gilneas.

Occupant

The Blades of Greymane

Goods

Pet Hounds
Chew Toys and Plushes
Gambling

Booth Manager

Alliance - Berenal/Aleyina (Aeydan/Shadiyah)

Hours of Operation

Flexible, no set specific hours.

Services:
Booth 13 serves as the Gilnean representation at the Tournament of Ages, hosted by the Blades of Greymane. While with the recent conflicts driving most of the mainstay members to not attend, representatives have still been sent to take advantage of the monetary opportunity of the tournament.
The booth offers two main attractions, Dogs/Dog Toys, and Gambling.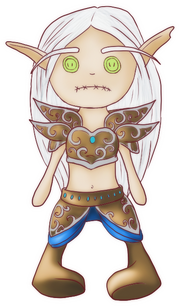 At the moment, the only dog toy available is the Fallmelody Squeak Plush, suspiciously made in the likeness of a certain Ranger of the Dominion of the Sun.
Community content is available under
CC-BY-SA
unless otherwise noted.